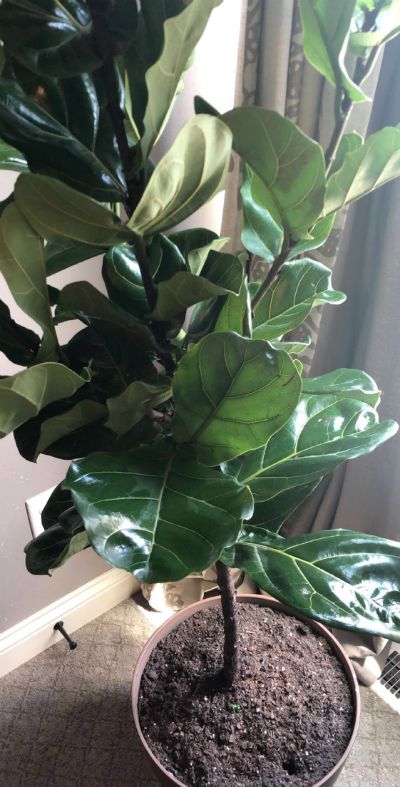 In August I hope to finish a "master bedroom refresh". We have owned our home in Meridian Oaks Subdivision in Glen Carbon for about 5 years now, and I'm ready to change things up. :) I'm not wanting to spend a lot of money, but for less than $500 I'm switching some decor, doing some fun DIY projects I'll share soon, and repainting the walls a lighter color - I want more contrast with some West Elm charcoal curtains I just purchased and some of the black accents in the room.
In this post I want to touch on two things - This GORGEOUS plant that's currently my favorite thing in my bedroom and painting.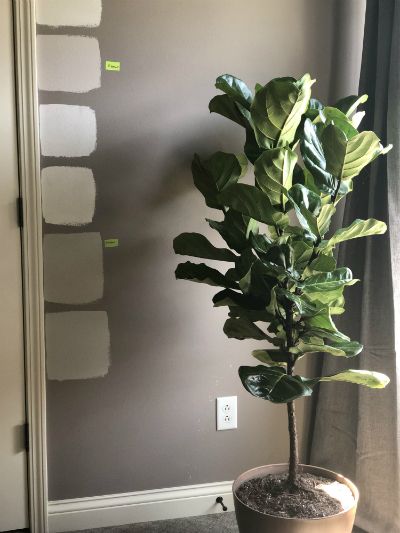 First, just a few weeks ago I found this GORGEOUS Fiddle Leaf Fig tree at Lowe's in Glen Carbon. It was only $34! I've always enjoyed planting outside during the Spring and Summer, but I've never really thought about how amazing plants look inside. Now that I have this tree, I'm noticing them all over; in stores like Crate and Barrel, on Pinterest & Instagram, and even as I'm watching TV. They are definitely the "IT" tree right now. Check out these other unique house plants in this Apartment Therapy article 7 Houseplants With the Most Unique Leaves We've Ever Seen.
Also, I think painting has to be one of the easiest ways to make a room have a totally different vibe for under $100 dollars. Here are a few quick paint tips:
1. For interior walls go with matte or eggshell finish - semi-gloss and gloss are just too shiny for walls.
2. Use a good quality paint. I like Duration from Sherwin Williams. It goes on so well and it usually only takes one coat.
3. Before purchasing paint, narrow down your color choices by looking on Pinterest and Google to see paint colors in different spaces.
4. Get samples and sit with them for a few days before you commit. Okay, if I'm being honest I didn't use to do this. After looking at photos online, I usually just a pick a color and go for it. But, to be honest, about half of the time it isn't quite right and I end up starting over. Lesson learned - as you can see, this time I have a bunch of colors that I'm looking at in relation to my trim color, furniture, and at different times of the day.
If you are selling your home, I include staging advice with every listing and up to $500 of free staging! Call or text me at 618-604-6370 and we can set up a time to chat!
If you are buying a home, you can add a lot of value to your home by updating paint, lights and trim. I would love to help you find ways to add equity while making your new home your favorite place to be!
Thanks for stopping by my blog! I would love to hear what your favorite house plants are in the comments.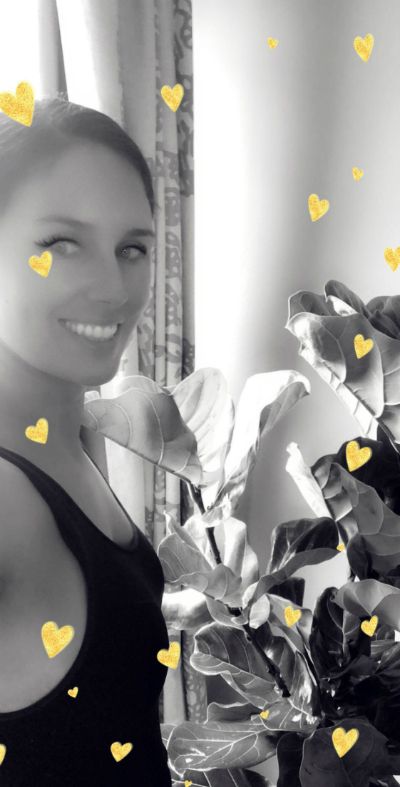 - Ali